THE UNIVERSE OF THE METAL-SCRAPPING POET
It used to be a flat, barren piece of land.
Now, it has
streams,
mounds,
stairways,
and small stone walls.
While strolling through,
one can hear the soft ringing of bells
mingling with the birds' songs.
At the back,
colourful towers
seem to spring straight out of a fairy tale, of a child's dream.
The child we used to be,
not so long ago.
Are these towers not the ones we all dreamed of?
They take me to an oft-forgotten world.
They fill me with wonder.
They lead me back to my true self.
What am I doing with my life?
A marble rolls down from a plumbing pipe to a mechanical lift. A wheel takes it for a spin and drops it into the back of a truck, until it reaches a spiralling staircase. Then the cycle starts anew, in circular motion.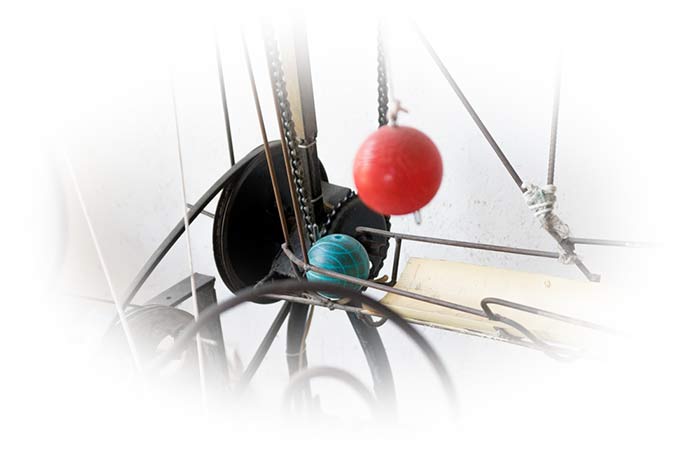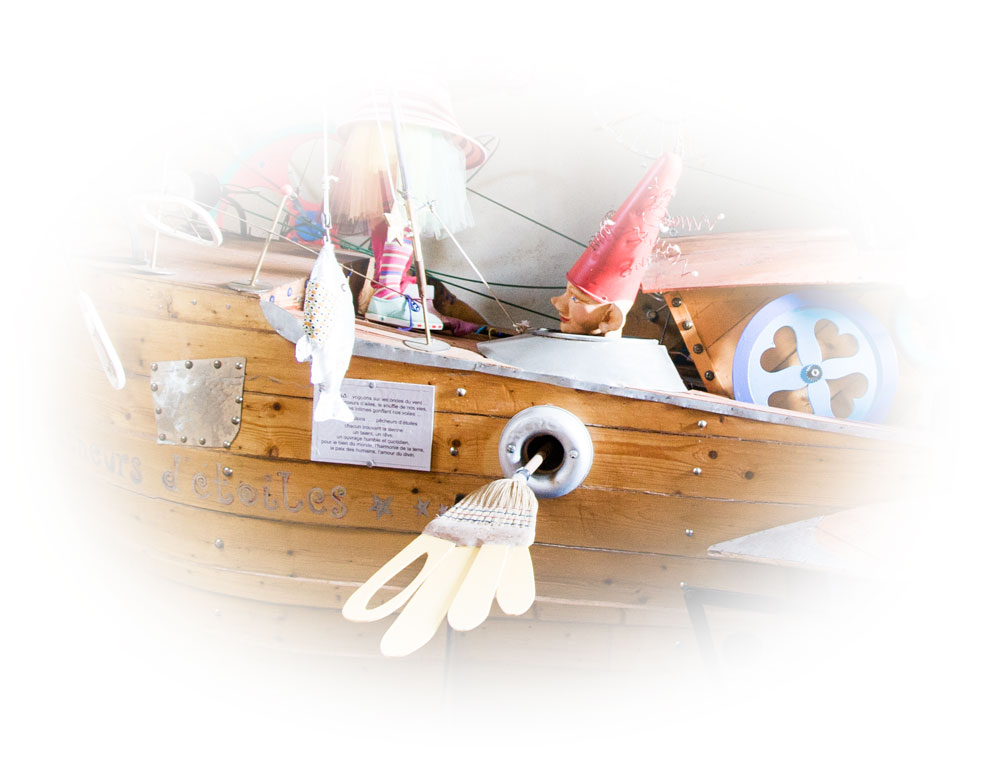 A boat spanning several feet,
a bird's head,
wings,
feet
and wheels,
wind turbines,
sails,
fishing rods,
and broomsticks instead of paddles.
There are characters too, little girls, some grown-ups, but above all, so many


C

O

L

O

U

R

S

.

Here, nothing is left to chance, but dreams thrive.
LET'S NOT TAKE OBJECTS JUST FOR WHAT THEY ARE!

They are openings
through which our heart dares to let out some magic.
These mechanisms and sculptures
are a great way to re-connect with something we often
hide deep within ourselves.

...after all since childhood,
we've been told to "act like an adult".

Because sometimes you have to reach deep
in an adult's heart to find their dreams,

and because one's creative acts sometimes makes them even more beautiful,

texts are scattered here and there.

Poetry, tales, lists, quotes and metaphors…

Writings, words, ideas, impressions...
"I want to build this place
because it is going to awaken people to their dreams,
their inner child,
their spirituality,
to awaken them to all these things,
there it is,
this is my Cathedral."
ROBERT COUDRAY
or the metal-scrapping poet
When arriving at Lizio's museum, one could easily imagine that this metal-scrapping poet has always been a sort of mad inventor that has been building machines in his garage since birth. You might think that his "different" personality is hard to identify with.
Except that Robert Coudray is a person like any other, not much different from you or me.

What perhaps makes him "different" is that he follows his own
path

...
"I used to admire people who knew right away what their call in life was: "I want to be a doctor, I want to be this, I want to be that.
I really wanted to know what I had to do."
Robert's quest took a while to fulfil. Over a period of 20 years, he went from being a stone cutter, then a photographer, then a crêpier, then a farmer, then a bee-keeper… He opened a guest-house, and set up a co-op to sell organic products.
"It has been a long process of creation, invention, figuring how to set it all up… Entrepreneurship was my way of expressing creativity."
One positive effect was that whenever he would get bored, nothing would prevent him from switching to something different. He had always lived with limited means and earned more or less the minimum wage.

So he would set out and create a new job for himself.
"Nowadays, what often prevents us from faithfully following our own path is that we're too rich: we have too many things,
too many acquired ideas and certainties, too much money…
Comes a time when we are not able to let go.

That's what is weighing us down."
After opening his own artisanal Cider house, he started displaying the contraptions he had created in his garage during week-ends. Little by little, people came to see them. But that's just the beginning of the story.
Even when you're on the right track, the road is not straight.---------------------------------------------
You may have to go through twists and turns ~~~~~~~~
To stay on-track, you must sense what changes are needed.
One has to stay true to oneself
to resist the call of money,
in order not to change a place that works well into some business-oriented amusement park,

and risk losing one's identity.
"If you find your own way,
you'll find some happiness, as well as some difficulties.

When, from time to time, small obstacles come your way,
it is essential to get into the
creative

process."
Creation...

It doesn't mean searching for a solution, but instead letting it come to you. It means feeling it.
"Not to talk to one's self", as Elektra Wagenrad would say.

It also means not knowing the future. Not planning nor organizing. It is a way of working that is very different from everything we have always known or been used to.
What will you do when you are older?
How will you earn money next year?
How are you going to fill your days tomorrow, the day after and all the other ones after?
Creation is entering the unknown.
"Fear is what prevents us from moving forward.
Our living act is similar to that of a tightrope walker that lets go of a support, walks on a rope between the earth and the sky and there is no way back.
And the first steps can often be the hardest… "
"Trust is the antidote to fear.
And how do you gain trust?
First of all, through

experience

."
The experience of the dive, of daring and of uncertainties is what Robert has gained. He is no longer afraid to move forward. It has allowed him to set himself incredible challenges, like the one of making a film without any funding (or nearly none) and yet with more than 600 volunteers!
"Not asking for the moon,
just a handful of stars"
Robert had been thinking about this film for more than 35 years. Funding it was refused several times. Robert had to make a decision: to film without funding or not to film. He and his wife chose the first option.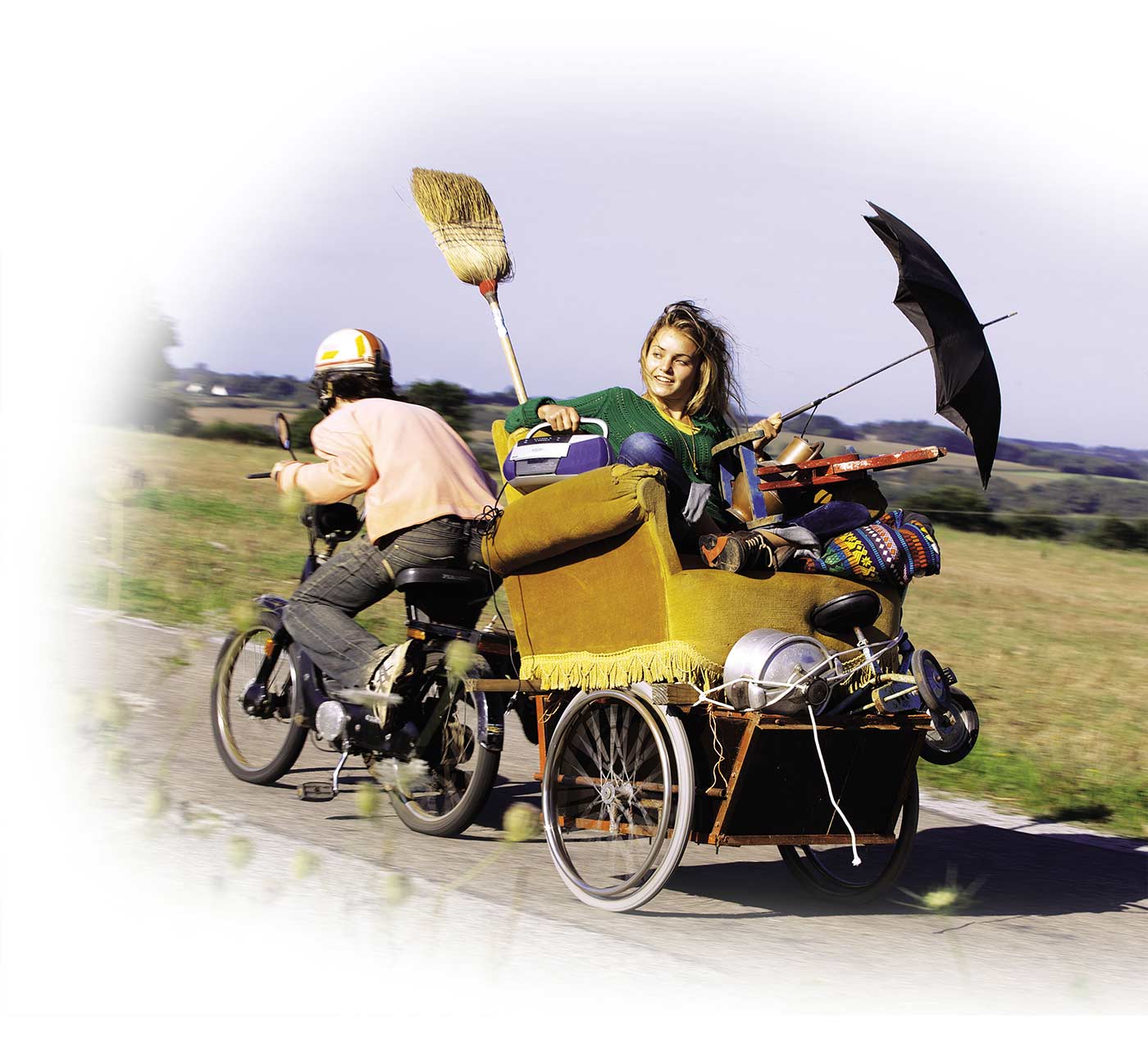 They gathered their friends and started the forward motion.
And the questions that arose found their own answers, sometimes with the help of a lot of energy, and sometimes thanks to a streak of good luck.

Shortly after deciding to make the film, Gaétan came to help. As a cinema technician on leave for a year, he provided precious help throughout the project.

When it became necessary to find lighting, a neighbour offered his in exchange for a bit of help with the work in his own house...
"It lasted for 2 and a half years, a time full of difficulty obviously.

We have always managed to find a solution, I had to do a bit of trusting. But what is incredible is that our little film has sold about 40 000 tickets.

To be honest, we have put a lot of energy into it, a lot of ourselves, a lot of time, sweat, fear but especially

...an incredible amount of trust."
Nowadays, the next project in the Coudray family is the success of the co-op. Isabelle and Robert had had the idea of this project for a long time. Their idea was to open a place where people could hang out, take their time. They met Claire and Isabelle, who wanted to start a café book shop in a nearby village. And they combined their energies.
"This café book shop is a place where people do come.

"Is it going to work or not?

We are not sure
but we'll try anyway.".
All these experiences have allowed Robert
to experiment more about life's generosity.
He has realized that when you allow an intuition to grow
and that you initiate the first step,
the way tends to open itself more easily than anticipated.
And this is the message he wishes to convey
through the world he has created.
We are invited, in turn, to create life !
To find out more
---

- All the interviews in a text format (in french) and some higlighted passages.
- More interview extracts on Soundcloud


You can see the Universe of the metal-scrapping poet in Lizio (Brittany) every Sunday from April to November, and every day during the school holidays.

The french movie "Je ne demande pas la lune, juste quelques étoiles" (Not asking for the moon, just a handful of stars) was released on DVD in September 2014. It is possible to buy it on the eponymous website.

The café-book shop "Aux vents des rêves" (the winds of dreams) is located on the land of the Universe of the metal-scrapping Poet and offers regular events to join if you happen to be in the vicinity.






Teaser of the movie
"Je ne demande pas la lune, juste quelques étoiles"
(Not asking for the moon, just a handful of stars)


This episode from the webseries SideWays, is an independent and free work.

Directed by Benoit Cassegrain and Hélène Legay.


From now on, it is yours!


Thanks to all of those who participated
by bringing their precious skills and generous donations!

Creative Commons
CC-BY-SA
History of the episode
---

Thanks to a family who did a Europe road trip by caravan , we have discovered the existence of the metal-scrapping poet. We barely parked the truck on the parking lot that a man passing by, astonished by the decoration of the truck, got interested in the project. This is how we met Robert Coudray.

Already intrigued by his child-like gaze when we first met, we have been captivated by his universe and his message. We have spent a lot of time at Lizio with him and the whole team of the new cooperative.

The shooting took place in 2014, between the 10th and 14th of July. The editing and the post production as usual were done inside the truck during the following weeks.

The music was composed by M. Looping. A big thanks to him!

Julie, Noémie, Dominique, Laurent, Sedera and Aleksi have made the revision and helped to improve the final result of the episode. Julie Salmon and Nathalie Quiroga translated into Spanish, Elise Sanvoisin, Yanick Lemeur, Patricia Jurion, Céline Courdain and Patrice Sicco translated into English. We also want to thank all the people who produce free access resources. This is how we have been able to use the plugin paralax "Skrollr" by Prinzhorn and the tutorial-template by Petr Tichy, the letter type imagined by Andrew H. Leman and Graham Meade, and the icons by Simple Icons, Nithin Viswanathan and Gemma Garner, all members of the Noun Project. Without their work, the magazine wouldn't be the same.

Some of them have received a small contribution from us (when there was a link for it). Thank you to them, and let's support alternative economies and work for the common good!
Financing and contributions
---

This episode, like the whole series, was financed thanks to the participation of those who support the project and want it to keep going.
Thank you to all the participants of the crowdfunding!

If you liked the episode, you can participate by a contribution.

In order to get information on how we spend the money that is donated, you can have a look at our detailed budget on the dedicated page. .

It is also possible to participate to the episode and to the global series by sharing your own skills: proofreading, broadcasting, etc.