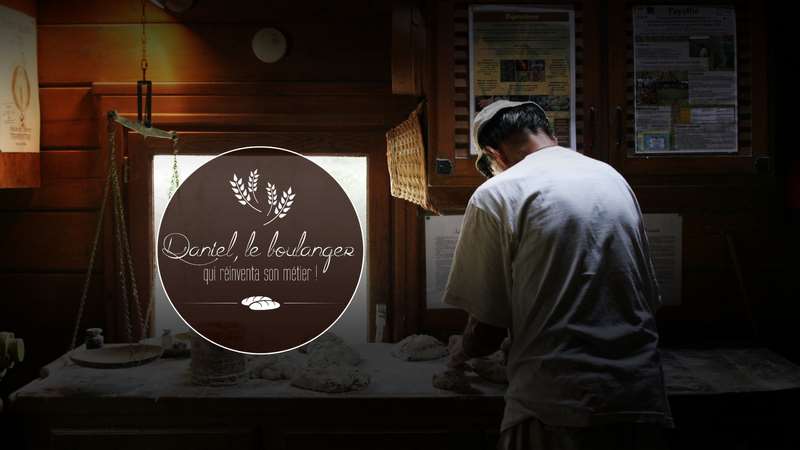 You are currently on the light version of the episode. The interactive version, much more beautiful, is here - available only from a computer.
---
VIDEO
English subtitles are available, click on CC...
---
MAGAZINE
A little booklet with an orange cover, an old printing, an object one wishes to keep preciously. He wrote it a few years ago, after reinventing his job .
Because the method was worth spreading, he wanted to share it...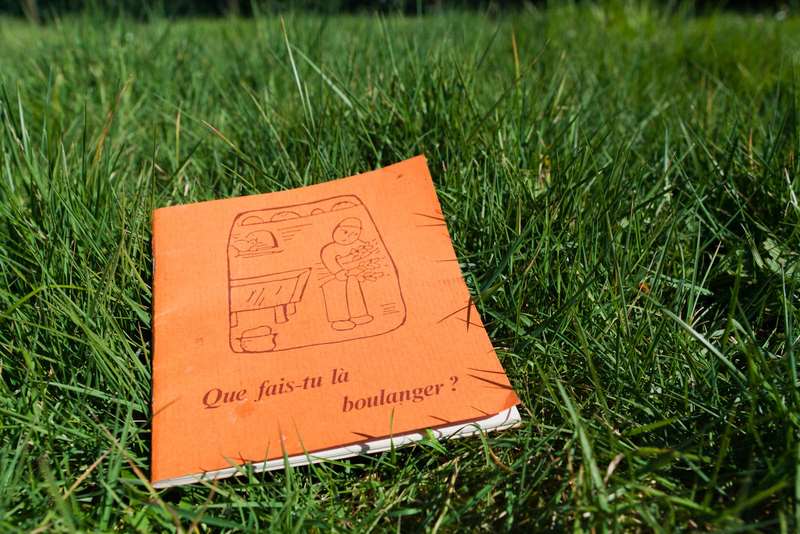 With his idea, it is possible again to find shops in villages, to find life in the countryside. Craftsmen who are happy and don't lack of anything.
At the beginning, there were a lot of wishes: to be close to his family, to produce his own food, to have time for himself, to write, to have two months of holidays in the summer to travel.
The solution, he invented it based on those ideas. And in the end, it corresponded well to his passionate job, to his original profession, bakery.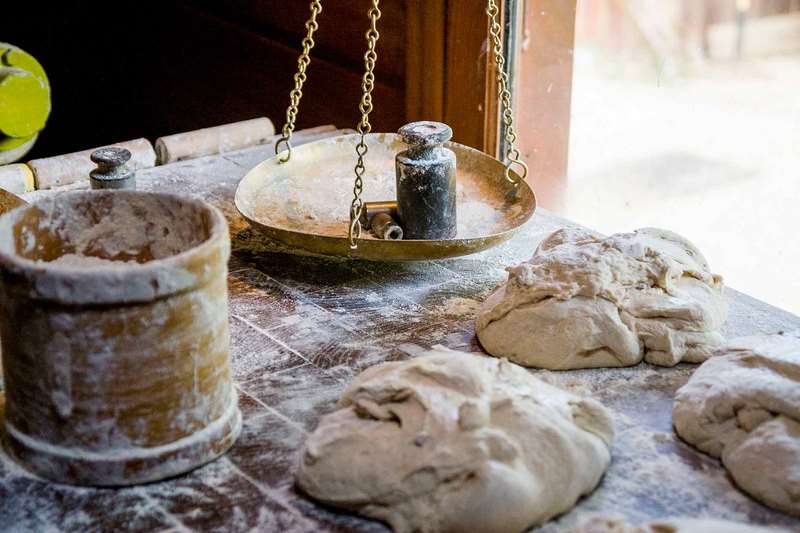 Two days of bread making in the week, because he likes to give birth to life in the dough, he likes his bread monastery, hermit in the night when conversing with the stars. In this way, he participates to the life of the country where he lives, 700 breads to feed 150 families, maybe 300 to 500 consumers.
And since he could not sell his bread while baking it, Daniel chose not to sell it himself. He opened his bakery to his customers who come to get their bread whenever they wish and pay directly into the till.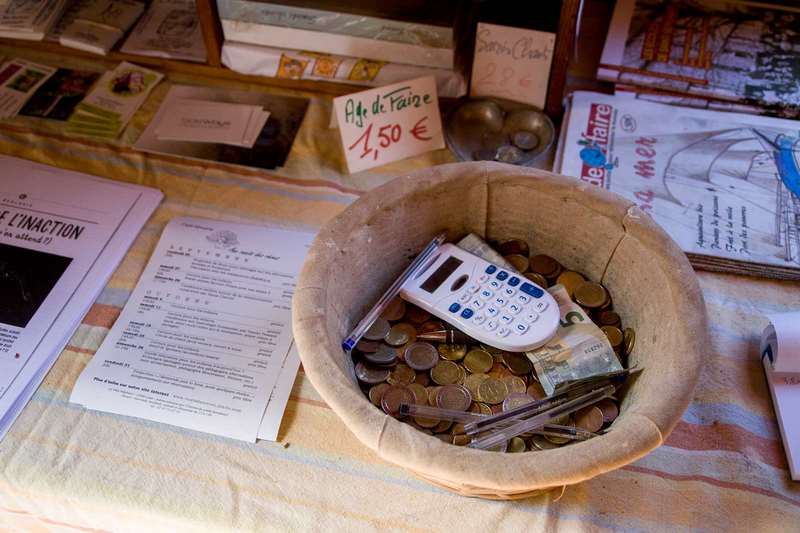 "The advantage of this system is that nobody is prisoner of anyone else. People come whenever they want, even at night, or the day after, and I, I can be there or not."
And since one needs as much time to sell bread as to make it, he gains in this way 2 days of freedom per week.
And this has been going on for the last 30 years…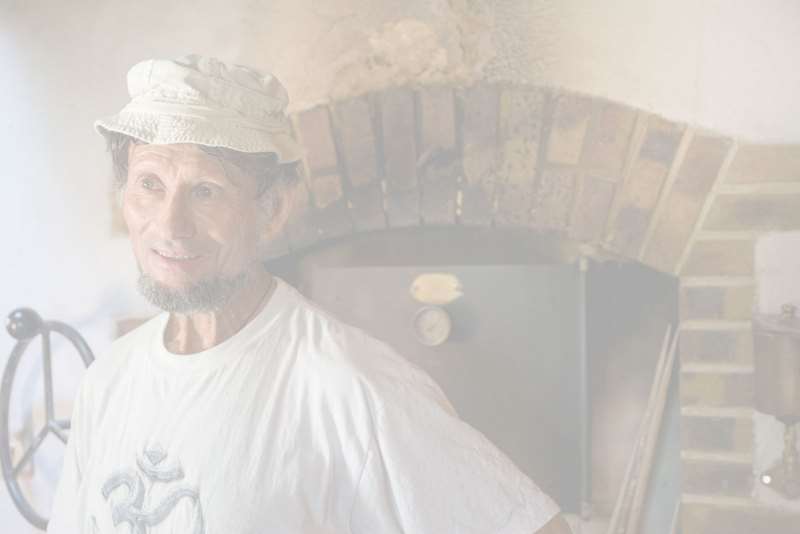 « I have always resisted the idea that either you increase your revenue, or you disappear.
I stayed with the same revenue since the beginning, which is 2 days of bread making... »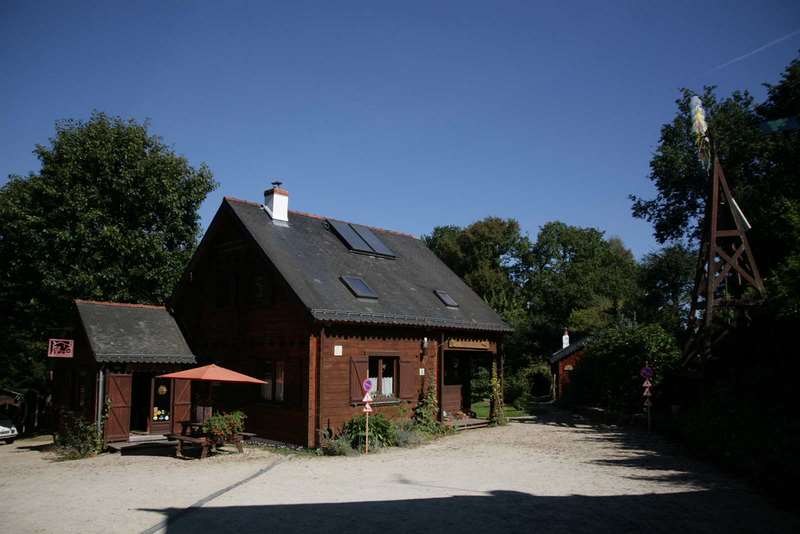 The unity of life
His bakery is directly next to his house, a place for family life. Nothing simpler to look after the children if needed, and stop wasting time in transport. There are only two steps to go to work.
« infinitely regret that life has been sliced in so many parts : work life, family life, social life, everything cut in pieces while life is one whole. 
Separating things like that is making them artificial.»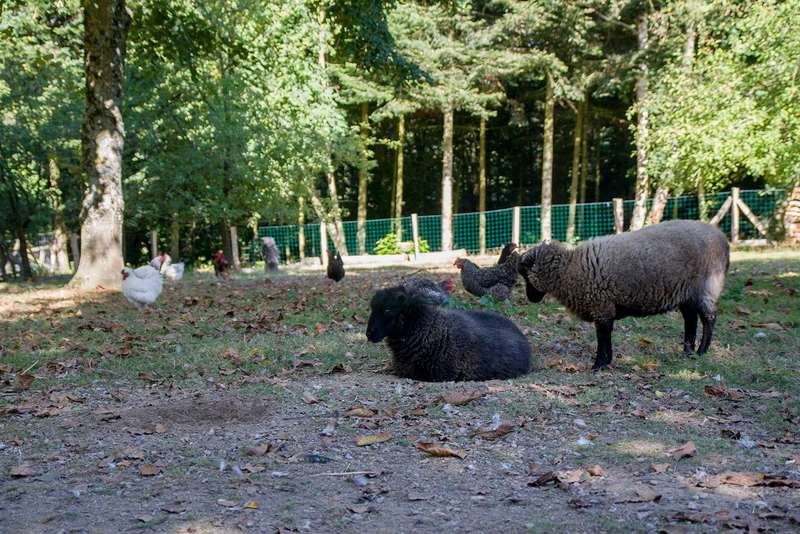 The unity of life. Enabled by the estate.
The estate is the house, the work place, the garden, the animals, the workshop, the games for the children and the entrance building, always open for whoever wishes, protected from the rain, with a place to sleep, a table, benches, a foosball and a little cellar with a few bottles. The estate is built little by little as life goes on...
« I have never considered myself as a good builder, but curiously I have done that all my life, a building over another. »
Daniel is always helped by skilled friends, who advise him, assist him.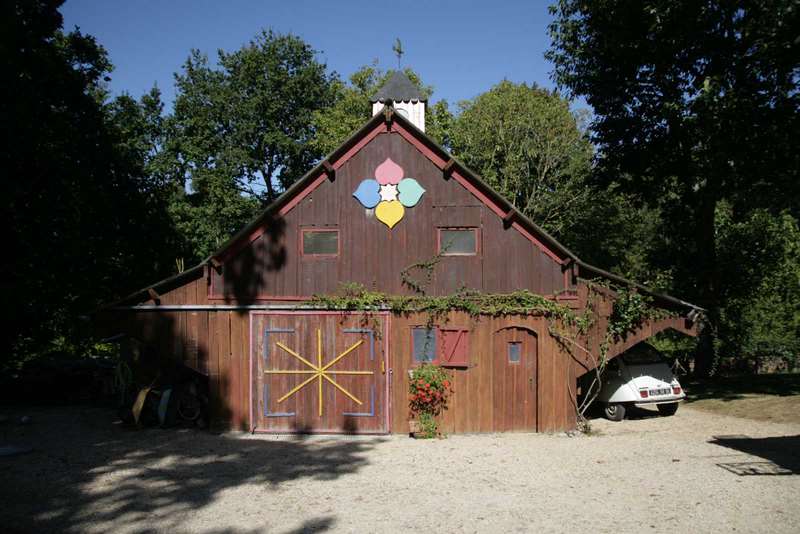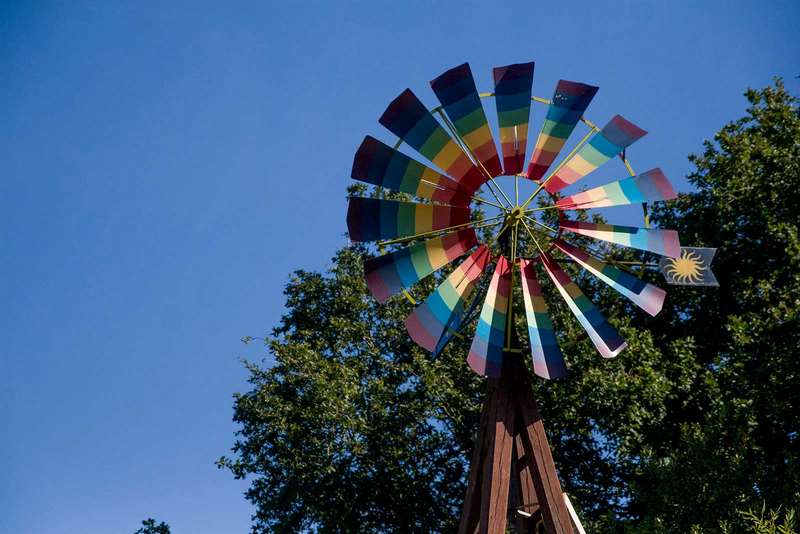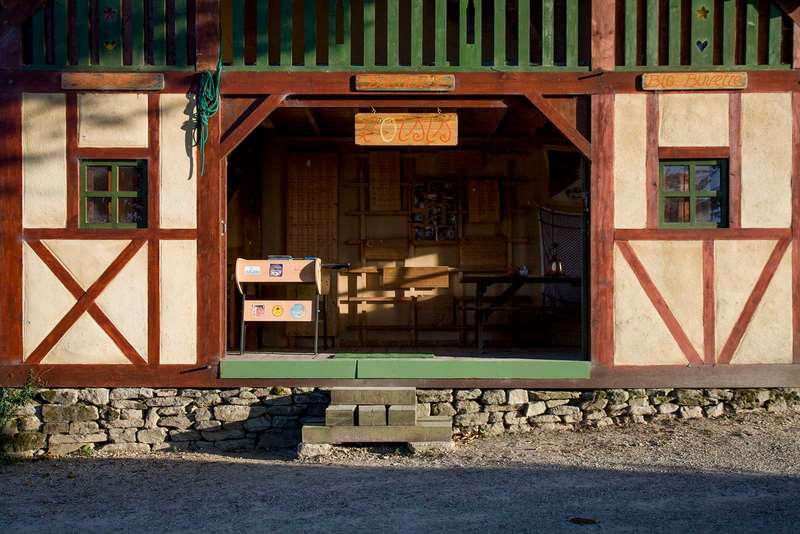 And the most important is that everything is made with the heart: details, colors, drawings, boards, activist stickers with each their own history. Free Tibet, Notre-Dame-Des-Landes airport, anti-nuclear, names that speak of this place's values. The Kokopelli association and the seed conservation hold an important place here.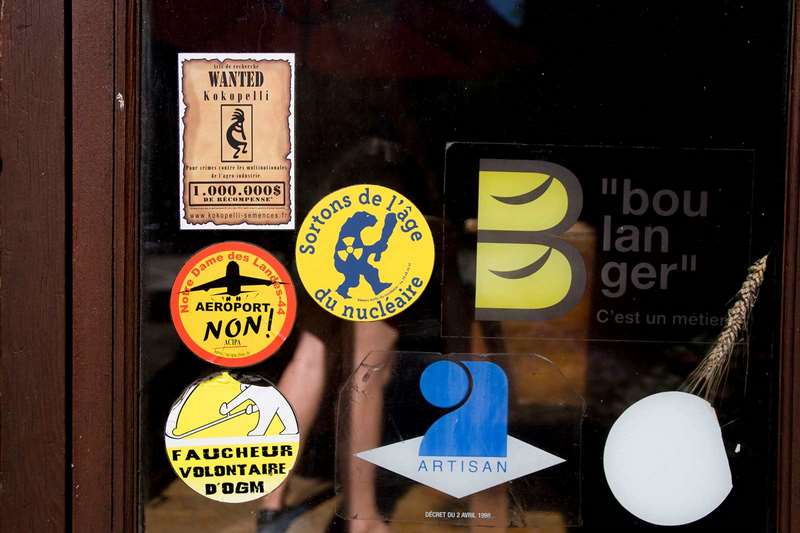 Because seeds are today confined in the European catalogue that forbids the use of unregistered plants, this means that today it is illegal to sell fruits or vegetables our ancestors ate for thousand years, it is illegal to sell your garden's apple tree's seeds. A quarter of the biodiversity of our gardens has already disappeared in half a century. There is only one variety of melons left on the markets' stalls when there used to be 160 a century ago. The Kokopelli association collects and sells ancient seeds to preserve biodiversity.
To participate, Daniel produces a third of his bread with ancient wheat. Only partly as finding a producer who accepts this illegal traffic is not that easy... He also plants in his garden many varieties of ancient cereals and vegetables, and offers the seeds to whom he knows will take care of them.
"I am an outlaw and proudly so. I even say it in the newspapers because it is absolutely criminal to have destroyed all those wheats and all this biodiversity."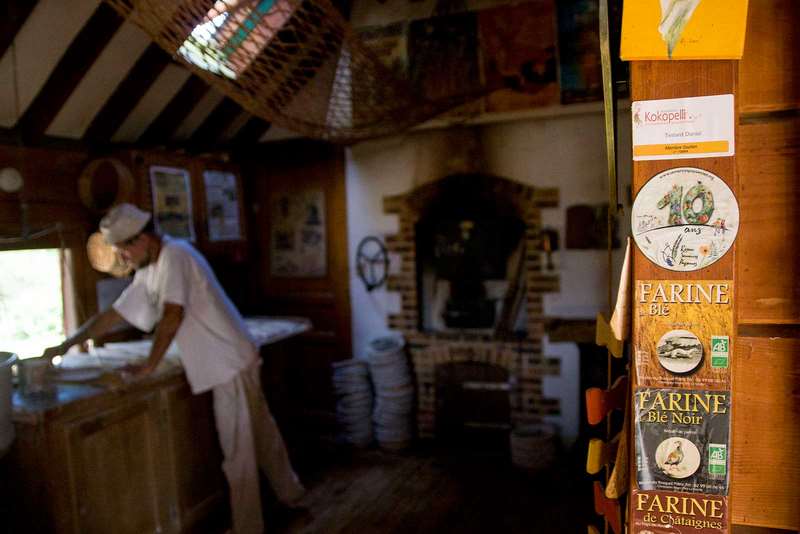 Using ancient wheat is not the only illegal part of Daniel's work. Seeing the quality of Britany's water deteriorating, he set up a system of harvesting and filtering rainwater to use for his bread. On top of all this, he also does not have any biological certification.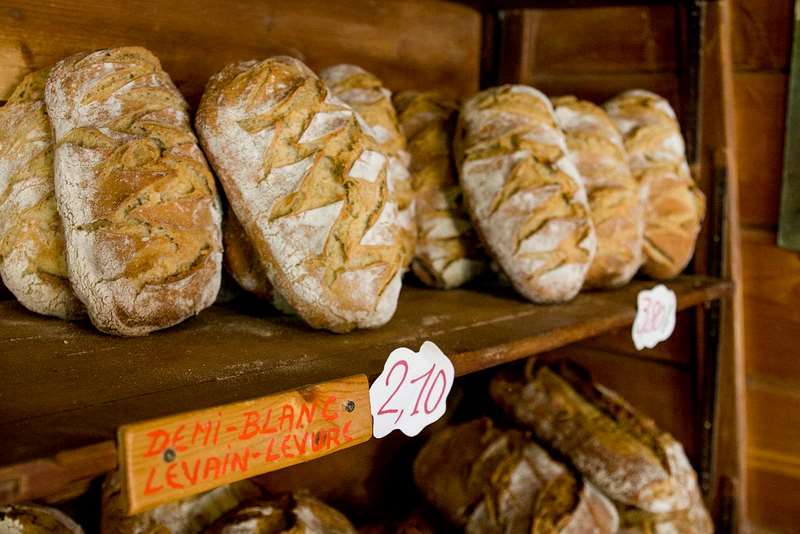 As we can see, Daniel's bread is not made in your typical bakery.The last important point on his work is that he uses natural leaven, a recipe he found in a 17th century book. This type of yeast, which has to be molded every day, allows the bread to be kept much longer than if it was made with brewer's yeast, making it easier to just bake two days in the week. And the other days are occupied by other passions...
GARDENING. Daniel takes care of his garden, which feeds the whole family. A combination of flowers and vegetables of all kind, it is regularly visited by schools or whoever wishes during open-days. As transmission and sharing are fundamentals for Daniel.
"A life of experiences, a profession, it should be passed on continuously. For as much as it moves forward on its experience, it has something to teach to others."
For this reason, Daniel has also created, with other bakers of the region, a school where trainees discover different ways of working.
HUMANIST ASTROLOGY. And when he is not at the bakery or in the garden, Daniel practices humanist astrology in the "zome", a building constructed in accordance with the golden ratio. This discipline, not seeking to guess whatsoever in the future, allows one to learn to know themselves better and understand themselves through their astral theme.
MUSIC. And during the weekends, we can also see him playing the accordion in "Fest Noz", Breton parties from which the traditions still runs strongly in the region.
WRITING. And all of this is without mentioning his writings, related to his reflections, his learnings or his discoveries. When he doesn't hand them out on recycled paper in his bakery, he publishes books. The next one to be soon published concerns contemplative singing he discovered a few years ago and which captivated him.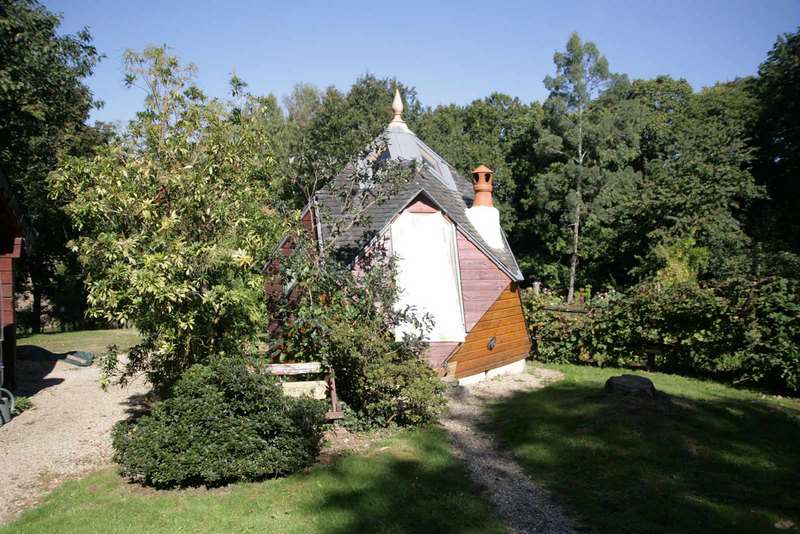 And everybody knows that every summer, the bakery is closed for two months. Daniel travels to discover new ways of seeing life and living it. His 2CV accompanies him through the countryside roads to take him towards new horizons.
"... because all my life has been about traveling to meet who I am."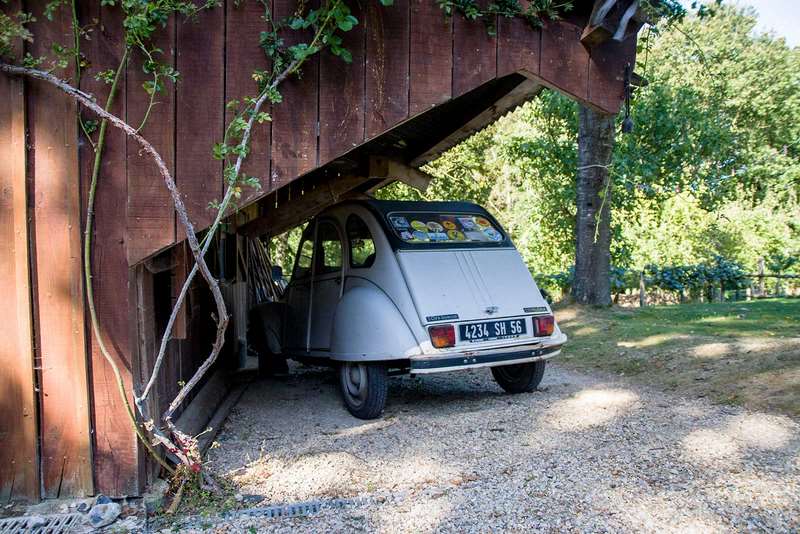 Through his work, Daniel does not only impact his life and his family's, it is the life of a whole village which is developing. The bakery is a place of life and meetings, one of the only ones existing in the countryside since cafés are closing one after the other. On Tuesdays and Fridays, days of bread, discussions are lively and friendly, people talk about the news, they are brought together.
« Everyone who comes here becomes a friend. When you meet every week, how can you not become intimate? »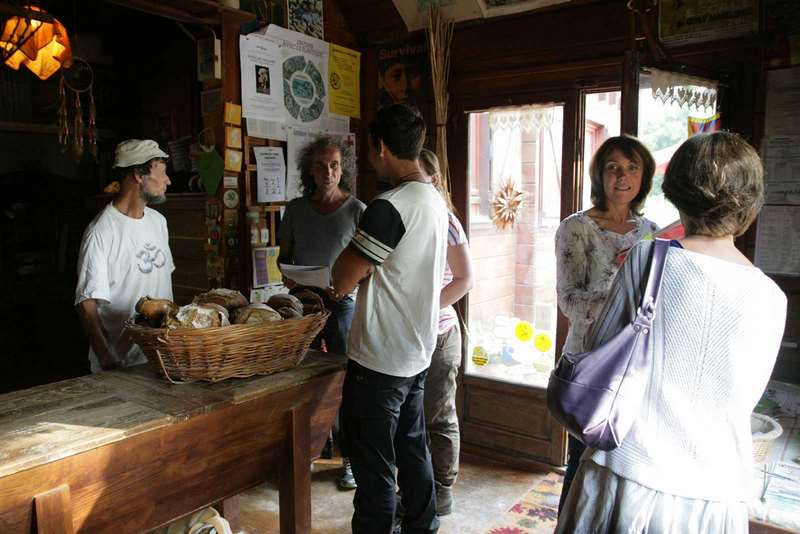 The bakery is also the cause and excuse for joint works once a year. On "wood day", all the volunteers gather around to tidy the five steres of the precious resource required to make the oven function all year. The event is followed by a shared meal and a party lasting until the end of the day. A unifying moment with an important role in a village of a few hundred inhabitants.
« I really realized that the party takes all its sense when it comes after work, and especially in joint work. Because partying makes sense at that moment. »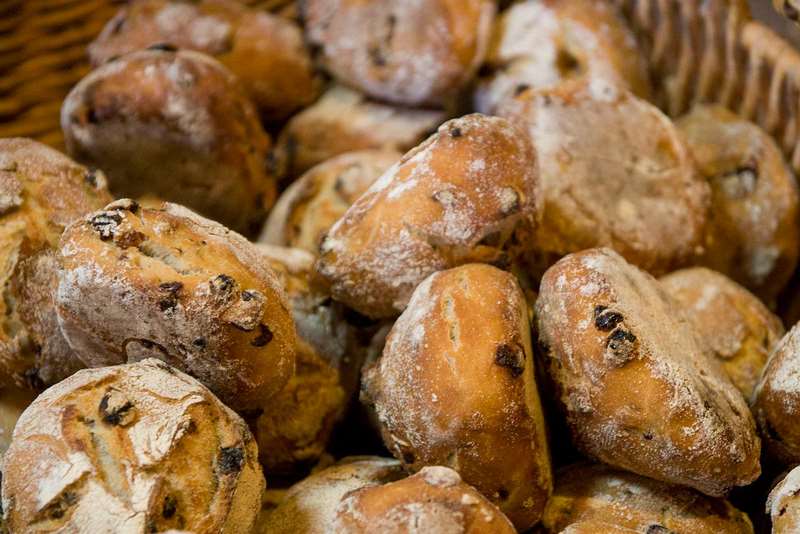 A bakery in a village that didn't have one anymore.
A job of which we rediscover the colors and passion.
A life developing all its advantages.
Because he knows how to be satisfied with essentials and how to trust, Daniel can live his life fully.
And what about us ? What could we reinvent to unify our life?
« I encourage each one to find
his/her function in the world
because it is there, the definition of happiness. »

- Daniel Testard -
This episode from the SideWays webseries is a free and independent work
Now it's yours!
Thanks to all those who contributed
to it's making by sharing their skills or donating!
Creative Commons
CC-BY-SA
Resources
---

Shooting, post-production, layout: Benoit (@webreporters) and Hélène (@helenelegay)

Music come from recording by Robert Coudray for the movie "J'demande pas la lune, juste quelques étoiles".

Proofreading, improvements, corrections: Palou, Marie-Claire, Laurence, Catherine, Anne, Ninon, Emilie, Guillaume, Dominique.

Open-sources resources used for the layout:

Without their help, the magazine wouldn't be what it is now. Some of them were granted a thin contribution from us (when there was a link for that).

Thank-you to them, and let's encourage alternative economies and let's work for the common good!
Financing and Contributions
---

This episode, like the whole series, was made financially possible thanks to the donations of those who support the project and help it carry on.
Thanks to those who donated through the crowdfunding!

If you liked this episode, please do not hesitate to offer your donation.

To find out how we spend the collected money, please check our budget on the appropriate page.

You can also help to the episode and to the webserie by sharing your competences: proof reading, broadcasting, or other.

A non-exhaustive list of ways to participate can be found on the "participate" page.